Chapter 6: How Spectrum Can Help
Spectrum Retirement Communities, LLC, has been a leader in senior housing since 2004. Headquartered in Denver, Colorado, Spectrum is a leading developer, owner, and operator of communities designed to offer excellence in services, lifestyle, security, and affordability. Lifestyle options include Independent Retirement Living, Assisted Living, Transitional Memory Care and Memory Care.
With multiple locations across the United States, Spectrum offers flexible, affordable, month-to-month full-service retirement rental programs enabling residents to enjoy the luxury they deserve without a prohibitive financial commitment or buy-in fee.
Each Spectrum community offers a wide variety of activities, programs, and event designed for residents to enjoy hobbies, current interests and to explore new leisure pursuits. Trips are often planned to local attractions, concerts, museums, and shows. We believe that the core of our resident's well being is the ability to create the best socialization programs possible.
Amenities such as health and wellness programs are designed to promoted healthy aging and encourage residents to lead balanced and productive lives. In our dining room, we feature healthy, well-balanced menu options.
At Your Service®
Spectrum communities offer a convenient and courteous concierge service. just pick up the telephone and we're At Your Service® is always available to help residents. At Your Service® also includes a hospitality program that welcomes and assures that all new residents learn their way around and meet new neighbors.
A great way to give senior living a try.
One simple way to determine if a community is the right community is Spectrum's short-term stay program. Prospective residents can stay in a furnished apartments at any one of our communities. Because diversity among retirement communities is considerable, staying at a Spectrum Retirement community is a perfect opportunity for prospective residents to try the flexibility of living in a retirement community and enjoying the perks of this kind of lifestyle.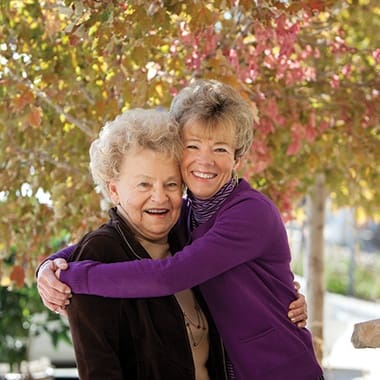 Read More
This is Chapter six of a six chapter guide to helping your parents transition into a senior living community. Has this been helpful? Read the other chapters including:
1. The Right Time to Move Into Assisted Living?
Learn signs that indicate it might be time for your parents to move into Assisted Living and read tips on how to talk with your parents about making the transition.
2. Senior Living Levels of Care 
Understand the distinctions between each level of care in senior living communities: active adult/age restricted, Independent, Assisted Living, Memory Care and skilled nursing. 
3. Parent Refusing to Go to Assisted Living?
Are you feeling like the time is right to transition to Assisted Living and mom or dad is refusing to go? Get some ideas on how to continue the discussion.
4. Today's Choices in Senior Living
Bingo is not the only game in town. Learn about the state-of-the-art amenities and active life enrichment programs offered at most senior living communities.
5. Questions to Ask an Assisted Living Community
Get tips on how to tour a senior living community, including questions to ask during your visit and an evaluation checklist.
6. How Spectrum Can Help
Learn about Spectrum Retirement Communities, including its flexible, affordable, month-to-month retirement rental programs in multiple locations across the US.