At Your Service® Dining
You or your loved one will find restaurant-style dining and made-to-order breakfasts every day of the week at The Enclave at Chandler Senior Living's beautiful dining room in Chandler, AZ. With flexible menus and a variety of delectable options — ranging from regional favorites to traditional home-style meals — we offer a dining experience you won't soon forget. Our on-site chefs prepare your meals made-to-order, so you're sure to have a hot, fresh, and delicious meal every time.
Dine on Your Schedule
You or your loved one can eat as often as he or she likes during our normal dining room hours with our all-inclusive At Your Service® Dining program. We also offer the convenience of 24-hour hydration stations, as well as a selection of fresh fruits to whet your palate or satisfy your sweet cravings.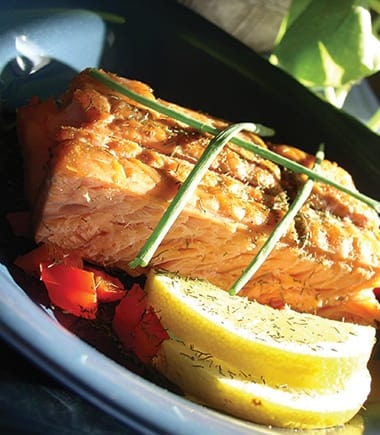 Treat Yourself
Check out a sample menu to see the types of delicious options offered daily in our dining room, including the weekly prime rib special, homemade soups, fresh salads, and fruit.
We also have a bistro when you are in need of a light snack or casual meal:
Coffee, tea and hot chocolate
Fresh baked cookies
Stop in for a quick bite or to relax in the company of friends.
Special Diets
Whether you or your loved one is gluten-free, on a low-fat, low carb diet, or has any other special dietary need, we will be happy to accommodate their diet. Memory Care residents will also appreciate the inclusion of our Brain Boosting Benefits™ (B3) Smoothie Program.
For more information on our signature At Your Service® Dining program, give us a call.