Senior Living Options
Whether you want light help or complete care, a long-term home or a short-term stay, you'll find everything you need at The Enclave at Chandler Senior Living. Our community in Chandler, AZ, offers a variety of living options designed to meet your needs today and down the road.
Independent Living
Our Independent Living Community offers all the services, amenities, and activities you or your loved one needs to keep their life full and exciting. We'll also take care of the household tasks – including laundry, cleaning, cooking, and home maintenance – so the only chore will be enjoying retirement.
Learn about Independent Living
Assisted Living
Our Assisted Living Community helps balance the need for personal care assistance with the desire for independence. You can stay in a private apartment while our staff helps with activities of daily living (ADLs) as well as meal preparation, housekeeping, laundry, transportation, and more.
Respite Stays
Come to us the next time you or your loved one needs a short-term stay during an illness, after surgery, while rehabilitating, or when a caretaker is away enjoying some time off. You'll get a comfortable, fully furnished apartment with our At Your Service® hospitality and other amenities.
Contact us for information on Respite Stays.
*Respite Stays are subject to availability. Contact the community for more information.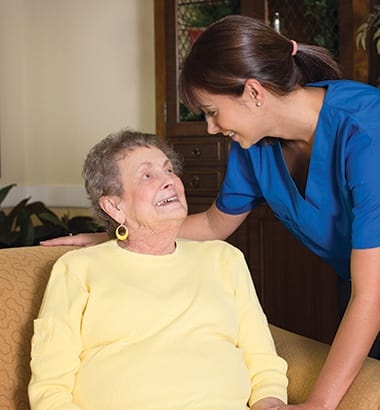 Transitional Memory Care
Our Transitional Memory Care community – called The Residence Club™ – is perfect for seniors who may struggle with mild cognitive impairment and may need more care than what's offered in Assisted Living but less than what you'd find in Memory Care.
Residents in this club receive all the benefits that come with being in an Assisted Living Community, including the opportunity to stay in your own apartment, along with special staffing, programs, and services that support memory.
Learn about Transitional Memory Care
Memory Care
Our community also includes full Memory Care for those with Alzheimer's disease or another form of dementia. Called Path to the Present®  - A Resident Directed Program, our services ensure your loved one is well cared for and fully engaged 24 hours a day, seven days a week.
Nursing Home
We don't offer skilled nursing at The Enclave at Chandler Senior Living. That's reserved for nursing homes—also called skilled nursing facilities—which offer a higher level of medical care than we provide. Nursing homes are for people who don't need a hospital but can't be cared for at home. If you or your loved one doesn't need that kind of care, our community might be just right.
How to Choose Living Options
Feeling overwhelmed by the options? Read our guide—This Feels Like Home®: A guide to finding the most appropriate retirement living option for your parents.
For those in need of further information, please speak with a member of our knowledgeable staff. Let us help you choose the care level that best suits your needs.