Memory Care in Chandler, AZ
The Enclave at Chandler Senior Living in Chandler, AZ, recognizes your loved one's abilities and preferences, and supports him or her in doing as much self-care as possible. That's why we offer Path to the Present® — A Resident-Directed Program — a proprietary program to help maintain your loved one's independence and dignity whether he or she has Alzheimer's disease or another form of dementia.
Our unique approach to Memory Care:
Engages your loved one in meaningful daily activities
Helps him or her regain a sense of purpose
Reconnects him or her with the larger world
A Hands-On Approach to Memory Care
Our Life Enrichment Coordinator plans meaningful individual and group activities to enhance your loved one's cognitive functioning. From our Marvelous Minds™ memory aid program to matching, memorization, and categorization, we've designed our activities to encourage your loved one to make choices for him or herself.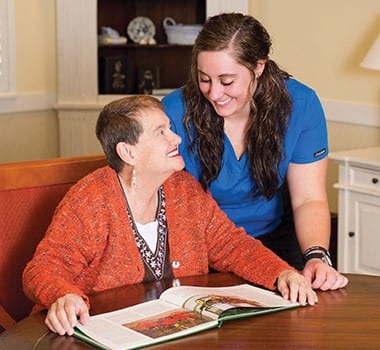 Brain Boosting Benefits™ (B3) Smoothie Program
At The Enclave at Chandler Senior Living, we know the importance of supplementing your loved one's diet with raw super foods. Our Brain Boosting Benefits™ smoothies program incorporates these raw super foods into your loved one's diet, providing them with a way to get the maximum nutritional value from their fruits and vegetables.
Dementia Care Around the Clock
Our team continually receives specialized training showing them the best ways to work with people who have memory loss or Alzheimer's disease, so you can rest easy knowing your loved one will receive the highest quality of care. To ensure this, our staff provides:
An introductory assessment at move-in
Follow ups on a routine basis and if the resident has a change in condition
You can also feel confident knowing our nurses and caregivers are available 24 hours a day, 7 days a week, so your loved one gets the attention he or she needs to stay safe.
Dementia Care Apartments
A cottage-style private apartment is waiting for your loved one at The Enclave at Chandler Senior Living. Each home in our Memory Care Neighborhood has its own front porch and other helpful features to maximize your loved one's independence. This neighborhood — which has a Memory Care garden is devoted exclusively to Memory Care residents.
To learn more about Memory Care in Chandler, AZ, contact our staff. Let us help you make the best decision for your loved one.
Watch our video here to get a firsthand glance at what life is like in our Memory Care Neighborhood and how we help our residents thrive.