Assisted Living in Gilbert, AZ
The Enclave at Gilbert Senior Living's Assisted Living community in Gilbert, AZ, fosters your independence and respects your privacy while creating a safe and welcoming place that's perfect for seniors who can no longer live at their own home. We cook your meals, provide you with personal care services and take care of everyday household chores like laundry, cleaning, mowing and lawn maintenance so you can enjoy a fulfilling daily life.
Care Personalized for Your Needs
When you arrive, our wellness staff will meet with you and your family to find out exactly which services you need. We will create a personal care plan specific to those needs – so you pay only for what's necessary – and routinely update that plan so you can have confidence in knowing you are always receiving the right amount of care. Feel comfortable knowing The Enclave at Gilbert Senior Living's caregiving team is available to take care of your needs 24 hours a day, seven days a week.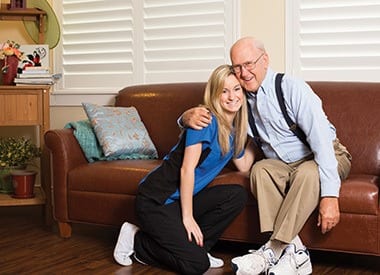 Assistance with Activities of Daily Living
You or your loved one may also find help with:
Medications
Meal preparation
Housework, including weekly linen service
Activities of daily living (ADLs) like bathing, dressing and toileting
And even more services—like running errands—are just a phone call away from our concierge desk.
Stay Involved
As an Assisted Living resident, you can choose from a variety of meaningful activities to help you stay physically and cognitively strong. From fitness and exercise classes to wellness and cultural programs, we give you the opportunity to remain involved as a social member of the community.
Private Apartments
Your loved one's private apartment will provide a calm, comfortable place to call home. With features such as:
A step-in shower with bath bench and handheld shower
Washer and dryer in most apartments
Individually controlled thermostat
24-hour emergency call system
Staff on duty 24/7
For more information on Assisted Living in Gilbert, AZ, speak with our friendly leasing staff.