Memory Care in Gilbert, AZ
The Enclave at Gilbert Senior Living in Gilbert, Arizona, recognizes your loved one's abilities and preferences, and supports him or her in doing as much self-care as possible. That's why we offer The Path to the Present® – A Resident Directed Program, a proprietary program to help maintain your loved one's independence and dignity whether he or she has Alzheimer's disease or another form of dementia.
This unique approach:
Engages your loved one in meaningful daily activities
Helps him or her regain a sense of purpose
Reconnects him or her with the larger world
Meaningful Daily Activities
Our Memory Care Programming Coordinator plans meaningful individual and group activities to enhance your loved one's cognitive functioning. These activities encourage your loved one to make choices and also help to maintain their relationship with the world that surrounds them.
Marvelous Minds™ Memory Aid Program
Matching, Memorization & Categorization
Music and Memory Program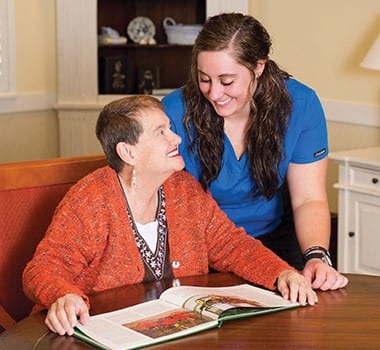 Brain Boosting Benefits™ (B3) Program
Our Brain Boosting Benefits™ (B3) smoothies incorporate raw superfoods into your loved one's diet, providing him or her with a way to get their fruits and vegetables' maximum nutritional power in a way that can't be achieved through regular menus.
Our smoothies are served as a snack to residents of our Memory Care community every afternoon. Our dining services team develops the recipes and posts a "Smoothie of the Day" menu in Memory Care.
24-Hour Dementia Care
Caring for those living with memory impairment requires specialized training and skill. Our staff stays up to date on the latest advancements in Alzheimer's care and is here 24 hours a day, seven days a week, to ensure the well-being of your loved one. In order to provide the best care to our residents, we perform:
Introductory move-in assessments
Routine follow-ups
Regular check-ins with family
Memory Care Neighborhood
Our Memory Care Neighborhood provides your loved one a private and safe apartment that, like a cottage, has its own front porch and other features to maximize his or her independence. This neighborhood—which has a Memory Care garden—is devoted exclusively to Memory Care.
Watch our video here to get a firsthand glance at what life is like in our Memory Care Neighborhood and how we help our residents thrive.