Wellness
Lifestyle is one of the most important factors when it comes to finding the perfect retirement community. Mental stimulation and social interaction are two keys to cognitive wellness. That's why The Enclave at Gilbert Senior Living in Gilbert, Arizona, offers a full slate of wellness activities to help keep your body, mind and spirit in their top condition.
We encourage all of our residents to explore their unique interests. Here are some of the physical, intellectual and spiritual activities we offer to help your mind, body, and spirit thrive.
*Please Note: Availability of programs may vary by community.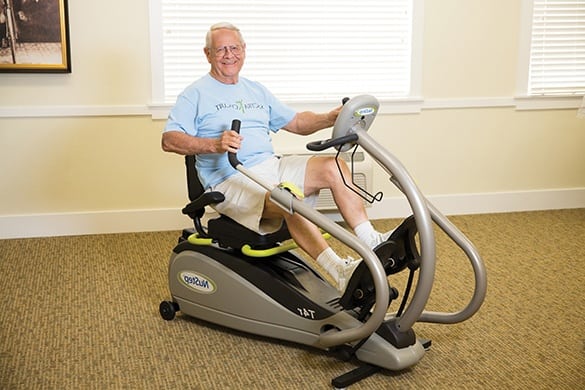 Physical
SpectraFit™ Classes
SpectraCircuit™
Xbox and Wii Bowling, Tennis, and Golf
Physical, Occupational, and Speech Therapy
Intellectual
History's Mysteries™ Discussion Group
Book Club and Book Review
Marvelous Minds™ Mental Fitness Program
What's News?™ Discussion Group
SpectraAdventures™ Virtual Travel Program
Guest Speakers
Spiritual
Aging with Grace
Meditation and Guided Imagery
Reflections on a Life Well Lived™
Religious Services
* Please Note: These providers are independent contractors and not legally related to or owned by The Enclave at Gilbert Senior Living or Spectrum Retirement Communities, LLC. In making this list available, The Enclave at Gilbert Senior Living and Spectrum Retirement Communities make no representation or warranty as to the nature, quality and scope of the services that are provided by these contractors.