Amenities
To help you feel at home, many amenities await you at Palos Verdes Senior Living. Our bright and open property is brimming with special features to suit your every need—and it's all included in your monthly rent. 
Quiet, Productive Time
Whether you're ready to relax or get things done, you'll find just the right spaces.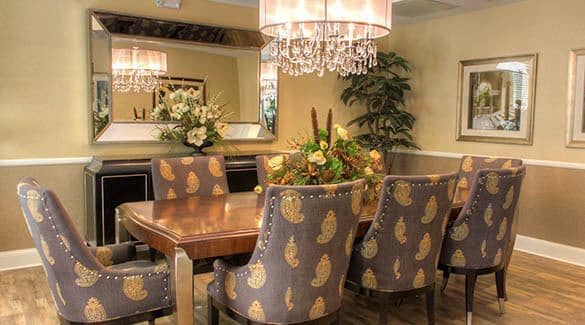 Social Time
Feel like getting out—without leaving home? These places might suit you:
State-of-the-art fitness and physical therapy center
Theater with surround sound
Meeting rooms for clubs and activities
Cozy lounges with fireplaces
Time to Eat
From full-service to self-service, you'll find dining options for any mood.
Casual yet elegant dining room
Private dining room for family and special occasions
Bistro serving a light lunch, coffee, tea, hot chocolate, cookies and fruit
Gourmet kitchen for community and private use
Outside Time
Enjoy our landscaped property—or get out for an excursion by car or bus.
Greenhouse and outdoor gardening areas
Landscaped courtyards and patios
Swimming pool
Resident and guest parking
Community bus transportation