At Your Service® Dining
Join us in the beautiful dining room at Palos Verdes Senior Living for restaurant-style dining. At each meal, you can choose from an array of menu options—from traditional home-style meals to the hot, made fresh breakfast—to suit your tastes and dietary needs. Each one is prepared fresh for you by our onsite chefs, so you'll enjoy every meal, guaranteed.
Flexible Dining Times
Eat as often as you like during normal dining room hours with our all-inclusive At Your Service® Dining program.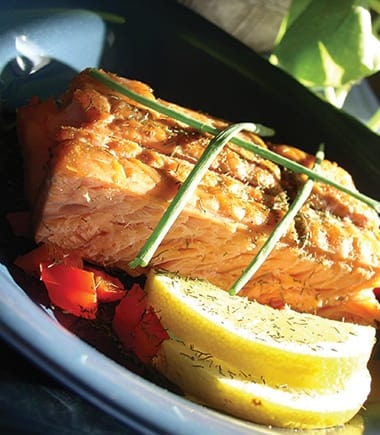 Marvelous Menu Options
Check out a sample menu to see the types of delicious options offered daily in our dining room. Join us each morning for made-to-order, hot breakfasts and on Sundays for brunch. We also offer a delicious prime rib dinner weekly, along with Romeo and Juliet dinners with new and exciting eats.
We also have a bistro for more casual meals and snacks. It serves:
Coffee, Tea and Hot Chocolate
Sandwiches, Salads and Soups
Fruit and Applesauce
Special Diets
Our chefs can accommodate special dietary restrictions. And for those in Memory Care, we offer our unique Brain Boosting Benefits™ (B3) Smoothie Program so you get the raw super foods you need for brain health.