At Your Service® Dining
Join us in the beautiful dining room at Palos Verdes Senior Living for restaurant-style dining. At each meal, you can choose from an array of menu options—from traditional home style meals to hot, made-fresh breakfast—to suit your tastes. Each one is prepared fresh for you by our on-site chefs, so you'll enjoy every meal, guaranteed.
Flexible Dining Times
Eat as often as you like during normal dining room hours with our all-inclusive At Your Service® Dining program.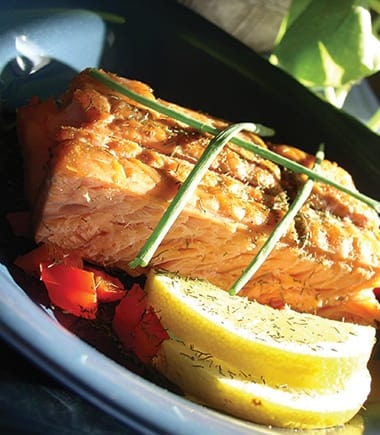 Marvelous Menu Options
Check out a sample menu to see the types of delicious options offered daily in our dining room. Join us each morning for made-to-order, hot breakfasts and on Sundays for brunch. We also offer a delicious prime rib dinner weekly, along with R.O.M.E.O. and J.U.L.I.E.T. dinners with new and exciting eats.
We also have a Bistro for more casual meals and snacks. It serves:
Coffee, tea and hot chocolate
Sandwiches, salads and soups
Fruit and applesauce
Special Diets
Our chefs can accommodate some special dietary restrictions - just ask at the community. And for those in Memory Care, we offer our unique Brain Boosting Benefits™ (B3) smoothie program so you get the raw superfoods you need for brain health.