Activities
At Lone Mountain Memory Care, we focus on providing our residents with access to an array of activities designed to stimulate and engage their minds and curiosities. With interesting excursions to tactile arts and culture events, we keep your loved one entertained with activities that align with the core values of Spectrum Retirement Communities: to find the person behind the memory impairment and engage them with activities that speak to their unique interests.
*Please Note: Availability of programs may vary by community.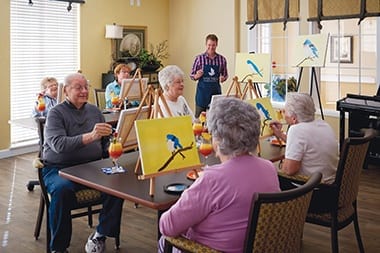 Excursions
Shopping
Movies and Plays
Museums
Sporting Events
Arts, Music & Entertainment
Musical Performances
Arts and Crafts Classes
Great Moments in Entertainment Presentations
Just for Laughs™ Entertainment Program
Acting and Performances
Poetry Groups
Cooking Classes
Social
Family Socials on Weekends
Activity Grab Bag
Game Nights
Birthday Celebrations
Coffee Connections
New Resident Social
SpectraMoments™ Daily Chats
Community Planning
Gardening Club
Monthly Chat Time
Humanity United for Good (HUGS®) Community Service Program
Colors of Spectrum™ Activities Guide
Read our booklet to learn more about the wide range of activities offered at Spectrum Retirement Communities.
It's Never 2 Late®
At Lone Mountain Memory Care, we believe in fostering endless possibilities for connections, relationships and increased interactions with our residents. Our community partners with It's Never 2 Late ® (iN2L), which is dedicated to helping older adults with dementia or other cognitive disorders realize the full benefits of today's technology. iN2L's intuitive design incorporates numerous user-friendly technology components to enrich the community and increase cognitive stimulation.
Our activity room features a picture-based, large touch-screen interface that allows users to simply "touch" their way to find engaging, educational, spiritual and personalized content appropriate to their own level of ability. With a simple press of a button on our TV screen, residents will have access to hundreds of applications including videos, movies, games, memory care focused engagement and other social connections. Regardless of experience, physical or intellectual abilities, our residents can use this large scale computer pleasurably while enhancing their independence and improving their overall quality of life.
HeartLegacy®
HeartLegacy® is a user-friendly iPad kiosk that lets you receive video greetings from your loved one, see highlight reels of community activities, and much more.