At Your Service® Concierge
Director of Resident Services
At Lone Mountain Memory Care, we understand how important it is to you to know that your loved one is well taken care of. With that in mind, we have developed a brand new position unique to our 100% Memory Care community, the Director of Resident Services. The Director of Resident Services is trained to act as a liaison for your family and loved one.
Think of it like our traditional At Your Service® concierge program, elevated. If you live out of state, and your loved one must go to the hospital for any reason, the Director of Resident Services will visit the hospital, check on your loved one, and then call your family personally to give a report of your loved one's status and condition.  
Getting Ready to Move
Packing Assistance
Moving Company Referrals
Estate and Auction Service
Space Planning
Getting Settled
Unpacking Assistance
Neighborhood Tours
Personal Shopping and Errands
Change of Address Notification Service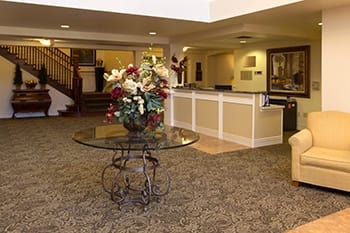 Getting Out
Theater, Sports and Concert Tickets
Mail Stop Requests
Pet and Plant Care Service
Request a brochure to learn more about At Your Service® Concierge.
Getting Festive
Holiday Decor Assistance
Gift Wrapping Service
Greeting Card Addressing
Floral Service
Special Event Planning
Getting Comfortable
Furniture Placement and Interior Design Consulting
Post Office Runs
Home Office/Fax and Copy Service
Pharmacy Prescription Drop Off/Pick Up
Getting Pampered
Salon Reservations
Dry Cleaning and Personal Laundry Service
Health and Wellness Programs and Personal Training