At Your Service® Dining
In the lovely dining room at HighPointe Assisted Living & Memory Care, we offer restaurant-style dining. Throughout the day, you can choose from a wide variety of menu options—from healthy salads to comfort foods—to suit your tastes and special dietary needs. All meals, including hot breakfasts, are made fresh by our chefs, so you'll enjoy every one, guaranteed.
Flexible Dining Options
Our all-inclusive At Your Service® Dining program means you can eat as often as you like during our normal posted dining room hours.
For special occasions, your family can reserve our private dining room and enjoy a party or family gathering catered by our chef.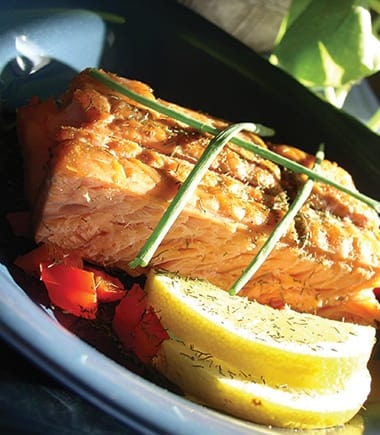 Delicious Daily Menus
In our dining room, our chef creates a variety of healthy and flavorful menu options—plus a daily special—at lunch and dinner, so you can enjoy every meal. Options and special meals include:
Fresh fish of the day
Hot, made-to-order breakfasts
Champagne brunch every other Sunday
Weekly prime rib dinners
Our chefs can accommodate special dietary restrictions, and we do our best to offer options for our gluten-free, kosher (pork-free, fish with scales) and vegetarian residents.
Learn more by checking out our sample menu.
Special Treats
We also have a community Bistro for casual snacks:
Coffee, tea and hot chocolate
Fresh fruit and fruited water
Cookies and graham crackers
And we offer our unique B3 Brain Boosting Benefits™ smoothie program to those in Transitional Memory Care and Memory Care, so you can get the raw superfoods you need for brain health.