Memory Care, Denver, CO
HighPointe Assisted Living & Memory Care is a safe, comfortable place for people struggling with Alzheimer's disease or other types of memory loss. Our specialized care program—The Path to the Present®—provides your parent or loved one with a renewed sense of purpose and connection to the world. A resident-directed program, we reinforce self-determination and independence as much as possible. Additionally, all-inclusive Memory Care means peace of mind knowing you'll be receiving a predictable cost of care each month.
Self-Directed Programming
Our program aims to help your loved one live up to his or her greatest potential—in mind, body and spirit. To accomplish this, we:
Engage your loved one in meaningful daily activities
Respect his or her abilities and preferences
Support him or her in doing as much self-care as possible
In these ways, you'll find that our community conforms to your loved one, instead of the other way around. We also take a more holistic approach to Memory Care with our B3 Smoothie Program that incorporates nutrition and hydration to help support cognitive function.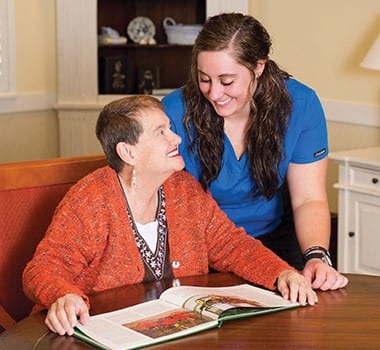 Engaging Activities
We're proud to have a higher functioning and more social group of residents than other Memory Care programs. Our Life Enrichment Specialists plan meaningful individual and group activities to help support cognitive functioning. We always encourage people to make their own choices, including participating in activities like:
Memory aids like our Marvelous Minds™ program
Music, art, theater and cooking classes
Staff-accompanied outdoor excursions, walks and trips
Evening activities to help prevent late-day confusion (also known as sundowning)
Physical movement
Social interaction
And more
Brain Boosting Benefits™(B3) Program
Food in raw form is more concentrated and beneficial. Our Brain Boosting Benefits™ smoothies incorporate super foods into the diet that can't be achieved through regular menus.
Our B3 smoothies are served as a snack in memory care every afternoon. Recipes are developed by our dining services team & the "Smoothie of the Day" menu is posted in memory care.
Highly Trained Caregivers
At HighPointe, you can count on our professional team to provide the specialized dementia care your loved one needs. Highly trained, our team of caregivers:
Receive ongoing training in working with people with memory loss and Alzheimer's Disease
Provide an initial care assessment when your loved one arrives
Do routine follow-ups (and follow-ups any time your loved one's condition changes)
You can feel confident knowing that are nurses are available every day and that our caregivers are here for your loved ones around the clock. We are always on hand to ensure your loved one gets the right amount of attention to stay safe.
Memory Care Neighborhood
Our dedicated Memory Care Neighborhood is spacious, cheerful and serene. It includes private, cottage-like apartments with front porches—all designed with your loved one's safety and independence in mind. An easy-to-navigate neighborhood, Memory Care includes:
Multiple floor plan choices
Private baths in all units
No companion or shared units 
Watch our video here to get a firsthand glance at what life is like in our Memory Care Neighborhood and how we help our residents thrive.