Activities
Surround yourself in opportunities to get out and explore the area, socialize with new friends, enjoy cultural experiences and be part of our community. At Rigden Farm Senior Living, our full-time Director of Fun takes your amusement very seriously. So you're sure to find pastimes you enjoy in our full activities calendar.
Please Note: Availability of programs may vary by community.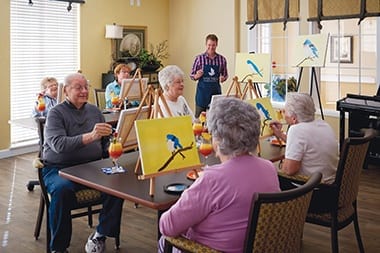 Excursions
Casinos
Shops
Movies and Museums
R.O.M.E.O and J.U.L.I.E.T Lunches
Parks and Trails
Arts, Music & Entertainment
History Is a Story
Taste of Rigden
Creative Writing Class
Rhythms of Spectrum
Great Moments in Entertainment Presentations
Just for Laughs Entertainment Program
Acting (Plays and Skits) and Performances
Social
Rigden Kentucky Derby Event
Happy Hours
Monthly Birthday Parties
Live Entertainment
New Resident Socials
Game Nights (Bridge, Bunco, Poker)
Quarterly Dances
Wii Bowling
Community Planning
Community Meetings
Weekly Chat Time
Resident Town Hall
Volunteer Committee
Colors of Spectrum™ Activities Guide
Read our booklet to learn more about the wide range of activities offered at Spectrum Retirement Communities.
HeartLegacy®
Heartlegacy® is a user-friendly iPad kiosk that lets you receive video greetings from your loved one, see highlight reels of community activities, and much more.