Pet-Friendly Senior Living, Cary, IL
If you or your loved one can't imagine life without a beloved pet, Three Oaks Assisted Living & Memory Care is the community for you. Animal companions are welcome here as a source of round-the-clock connection. Join us for a tour, and ask about our pet friendly policy—and pet therapy if you don't have your own pet.
Live-in Pet Companions
Our Assisted Living community is full special pets who live here with their human friends. Many become community mascots, sparking camaraderie wherever they go.
Your loved one also can bring his or her small pet to:
Continue the powerful bond as he or she ages
Take comfort in that special friendship during the transition
Enjoy the pet's companionship in his or her new home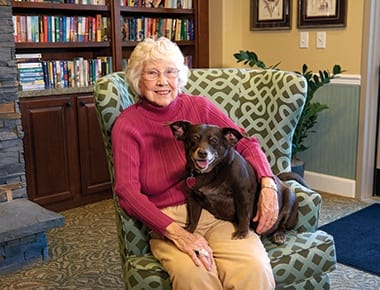 Pet Visitors 
When you visit Three Oaks Assisted Living, bring along any grandpets or great grandpets. Your loved one will love a warm hello from the whole family, and you'll create an especially joyful time together.
Pet Therapy
We offer pet therapy, so your loved one can keep his or her spirits up by interacting with animals. It's a great way to get the comfort and wellness benefits of being with a special dog or cat—even if when he or she doesn't have a pet.