Living Options
Whether your loved one just needs help with daily activities or requires specialized dementia care, you'll find four living options to meet his or her needs at Cedar Lake. Spanning the continuum from Assisted Living to Memory Care—and with the unique Transitional Memory Care Program in between—we enable him or her to live as independently as possible, for as long as possible.
Assisted Living
To balance your loved one's desire for independence and need for assistance, the caring team at Cedar Lake provides help with activities of daily living, along with enriching activities, housekeeping and transportation.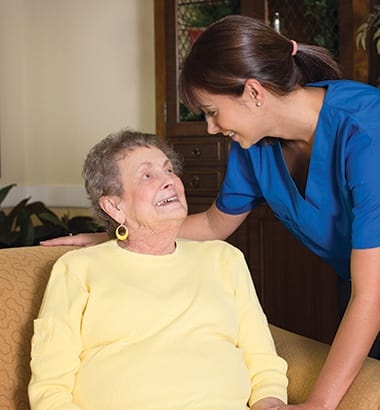 Transitional Memory Care
If your loved one needs more support with memory loss than is offered in Assisted Living, but isn't yet ready for Memory Care, he or she might benefit from our Transitional Memory Care Program, called The Residence Club™.
Learn about Transitional Memory Care
Memory Care
For those with dementia or Alzheimer's Disease, our community offers The Path to the Present® Resident-Directed Program, a specialized memory loss program that keeps your loved one engaged and safe around the clock.
Respite Stays
Our community also provides short-term respite care in both Assisted Living and Memory Care. It's perfect for people who need a supportive place to stay during an illness, after a surgery, during rehabilitation or when a caretaker is away.
When you or your loved one needs a short-term place to stay during an illness, after a surgery, during rehabilitation or when a caretaker is away, come to us. We offer a comfortable, fully furnished apartment with hotel luxuries like concierge services.
*Respite Stays are subject to availability. Contact the community for more information.
Nursing Home
At Cedar Lake, we don't offer skilled nursing. That's reserved for nursing homes—also called skilled nursing facilities—which offer a higher level of medical care than you'll find here. Nursing homes are for people who don't need a hospital but can't be cared for at home. If you don't need that kind of care, our communities might be just what you're looking for.
How to Choose Living Options
Feeling overwhelmed by the options? Read our guide—This Feels Like Home®: A guide to finding the most appropriate retirement living option for your parents.