Wellness
The team at Cedar Lake Assisted Living & Memory Care plans a host of wellness programs to support the whole person. You can enjoy individual and group fitness activities for a strong body, intellectual activities for a lively mind, and religious and volunteer activities for a peaceful spirit. And lifestyle is one of the most important factors when it comes to finding the perfect retirement community.
We encourage residents to take advantage of a variety of innovative wellness programs to stay fit and thrive. See a list of some of the different physical, intellectual and spiritual activities we offer to help.
Please Note: Availability of programs may vary by community.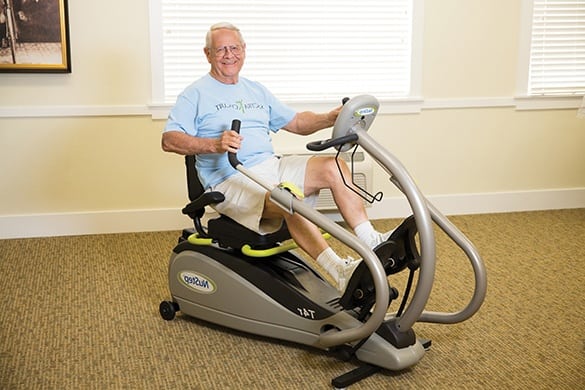 Physical
Daily SpectraFit™ classes (twice a day, three times a week)
Xbox Bowling, Tennis and Golf
Physical rehabilitation
Occupational and speech therapy
Intellectual
History's Mysteries™ discussion group
Book Club and Book Review
Marvelous Minds™ mental fitness program
What's News?™ discussion group
SpectraAdventures™ virtual travel program
Quality Living speakers program (topics such as self-image, healthy relationships and handling loss
Spiritual
Religious studies
Aging with Grace
Reflections on a Life Well Lived™
Humanity United for Good (HUGS)® community service program
Religious services speakers
* Please Note: These providers are independent contractors and not legally related to or owned by Cedar Lake Assisted Living & Memory Care or Spectrum Retirement Communities, LLC. In making this list available, Cedar Lake Assisted Living & Memory Care and Spectrum Retirement Communities make no representation or warranty as to the nature, quality and scope of the services that are provided by these contractors.