Assisted Living in Lombard, IL
Designed for seniors who no longer live in their own homes, the Lombard Place Assisted Living community helps your loved one remain as independent as possible while receiving the right level of personal care. This balance creates a positive environment in which he or she can enjoy a fulfilling life.
Customized Care Plan
Because every person's needs are different, our nurses meet with you upon arrival to create a personalized care plan. Then, as your loved one's needs change, we help update the plan—so you can be confident that he or she always receives the right care, and you pay only for the necessary care.
Complete Services
With three meals a day, housekeeping, transportation, licensed nursing, 24-hour care and even concierge services, you can enjoy peace of mind, knowing that your loved one has everything he or she needs every day.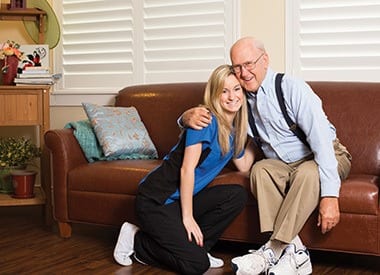 Specialized Support
Our highly trained team helps your loved one with everything he or she needs, including activities of daily living (ADLs):
Bathing
Dressing
Toileting
Medication
And more
And you will be confident in the care your loved one gets. Our care team uses iPads that, with a touch of a button, pull up his or her medical history and medications.
Wellness Activities
Your loved one can choose from a wide variety of beneficial activities to feed his or her physical, cognitive and spiritual well-being. From cooking classes to cultural programs to social gatherings, your loved one has many opportunities to remain engaged and social.
Comfortable Apartments
Rest assured that your loved one is safe and comfortable in his or her private Assisted Living apartment. It includes:
A step-in shower with safety features
An individually controlled thermostat
A 24-hour emergency pendant and pull cord system
Full-Sized appliances including a washer and dryer
And if it takes a pet to make a home, no problem. Your loved one can bring his or her small pet to Lombard Place Assisted Living.