Activities
Surround yourself in opportunities to relax, play, explore and be social at Carmel Senior Living. Between our daily, weekly, monthly and special events—like holiday programs—you're sure to find lots of pastimes you enjoy in our packed activities calendar. If you don't, suggest an activity to our Director of Fun.
Please Note: Availability of programs may vary by community.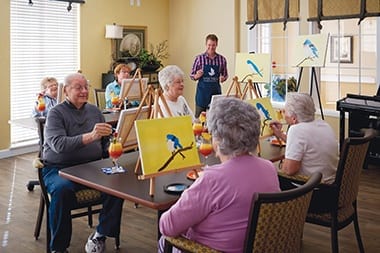 Excursions
Sporting Events—Indians Baseball Games, Colts Football, Pacers basketball
Shopping—Grocery Stores, Target, Market District of Carmel, Walmart
Romeo and Juliet Lunches—Red Lobster, Bru Burger or Bub's, Clay Terrance Mall
Entertainment—Booth Tarkington Theatre, Local Winter Kids Concert
Casinos—Indiana Grand Casino and Buffet, Hoosier Park Casino
Museums—Museum of Miniature Art
Arts, Music & Entertainment
Arts and Crafts Classes
Live Musical Entertainers
Rhythms of Spectrum
Great Moments in Entertainment Presentations
Just for Laughs Entertainment Program
Acting (Plays and Skits) and Performances
Poetry Groups
Cooking Classes
Social
Neighborhood Youth Strings Academy
Activity Grab Bag
Game Nights
Birthday Celebrations
International Postcard Club Happy Hour
Wii Bowling
New Resident Social
SpectraMoments™ Daily Chats
Community Planning
Veteran Recognition Events
Activity Steering Committee
Community Meetings
Monthly Chat Time
Resident Council
Volunteer Committee
Colors of Spectrum™ Activities Guide
Read our booklet to learn more about the wide range of activities offered at Spectrum Retirement Communities.