Pet-Friendly Senior Living, Carmel, IN
Bring your beloved pet with you to Carmel Senior Living. We welcome small
pets—whether they live with you or visit occasionally. There's nothing like a furry companion to make a new apartment feel more like home. Join us for a tour, and learn more about our pet-friendly community.
Live-in Pet Companions
People and pets have a powerful bond, especially as we age. When you or your parent comes to live with us, a small pet can come along. You'll love:
The comfort of having that special friendship during a time of transition
The ongoing companionship of a pet in your new home
Your new neighbors also might enjoy your pet's company. Many dogs become community mascots, drawing people and comradery every day.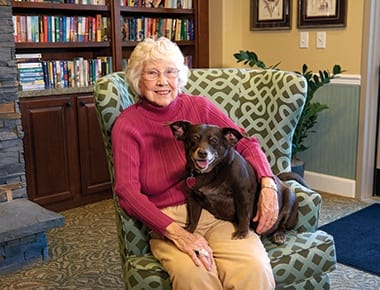 Family Pet Visitors 
Have a grandpet or great grandpet? Invite your family to bring them for visits! There's nothing like a warm hello from a furry friend. And it's a joyful way to bring the whole family together.
Pet Therapy
Interacting with animals has a way of keeping our spirits up. If you don't have a pet of your own, Carmel Senior Living offers pet therapy—so can you can experience the comfort and wellness benefits of being with a special dog or cat.