Living Options
The Enclave Senior Living at Saxony is a full-service senior community in Fishers, Indiana. We offer Independent Living, Assisted Living, and Memory Care apartments and programs. By offering three levels of care, we can adapt easily to your ever changing needs.
Stay comfortable. Stay at The Enclave Senior Living at Saxony.
Independent Living
Social seniors appreciate The Enclave Senior Living at Saxony and our Independent Living apartments. This resort-like community features a full activities calendar, transportation services, access to life enriching wellness programs and so much more. We support your independence and encourage you to make your own decisions, so that the life you live is the life you love.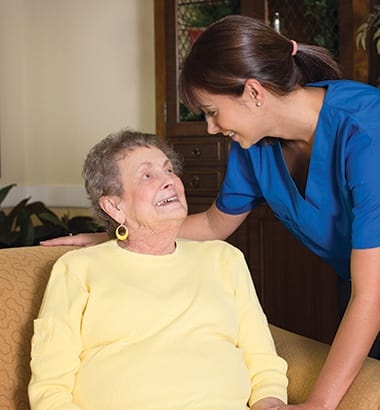 Assisted Living
A time may come when you have difficulty performing activities of daily living. But with The Enclave Senior Living at Saxony, we help ease the transition with our innovative Assisted Living community. Our professionally licensed and trained team will work with you to determine which programs will benefit you most.
Transitional Memory Care
When you need more care than is offered in Assisted Living, but less than you get in Memory Care, our Transitional Memory Care program—called The Residence Club™—may be just what you need.
Learn about Transitional Memory Care 
Memory Care
Caring for a senior with Alzheimer's disease or other dementia-related illness requires knowledge, experience and most importantly understanding. You can count on our team to provide our residents with the utmost compassion and care as we navigate daily life together.
Respite Stays
When you're recovering from an illness, injury or surgery, we offer short-term Respite Stays in our community. This option is also available for times when your primary caregiver is away. We provide a supportive environment where you'll be surrounded by comfortable, hotel-like amenities, including Concierge services. Rest assured knowing that you'll be cared for by our 24-hour staff.
Speak with our staff for more information on these fully furnished apartment homes.
*Respite Stays are subject to availability. Contact our community for more information.
Nursing Home
The Enclave Senior Living at Saxony does not offer skilled nursing services. That's reserved for nursing homes, also called skilled nursing facilities. Those communities offer a higher level of medical care than you'll find here. Nursing homes are for people who don't require a hospital but can't be cared for at home. If you don't need that kind of care, then our community may be just what you're looking for.
How to Choose Living Options
Feeling overwhelmed by the options? Read our guide—This Feels Like Home®: A guide to finding the most appropriate retirement living option.