Assisted Living in Fishers, IN
A safe, welcoming place to live that's perfect for seniors who no longer live in their own homes, the Assisted Living community at Meadow Brook fosters your independence and respects your privacy, dignity and individuality. 
Personalized Care Plan
Meadow Brook Senior Living offers our residents and their family members a simple two-tiered, inclusive rate for monthly apartment rental and care services.
The Gold Tier allows our residents with lighter care needs to have a lower-cost inclusive rate, while the Platinum Tier allows residents with higher care needs a predictable inclusive rate as well. The Platinum level covers all the care services we can provide at our community.
Prior to moving to our Assisted Living community in Fishers, Indiana, your family will work with a nurse to create a custom care plan. The personalized assessment will determine the tier that best matches your care needs and will be the foundation for the customized care plan. This allows families to have peace of mind and no surprises about changing care costs if your needs change. 
Round-the-Clock Care
Feel comfortable knowing that our caring Assisted Living team will have staff available 24 hours a day, seven days a week.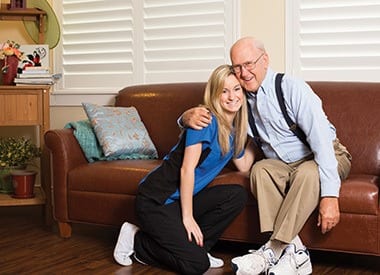 Supportive Services
Get help with everything you need:
Medications
Meal preparation
Housework, including linen service
Activities of daily living (ADLs) like bathing, dressing and toileting
You can even get extra help—like scheduling transportation—from our concierge desk.
Beneficial Activities
Choose from a wide variety of meaningful activities to help you stay physically and cognitively strong. From fitness and exercise classes to wellness and cultural programs, you have lots of opportunities to remain social and involved.
Cozy Apartments
Stay safe and comfortable in your private Assisted Living apartment with:
A step-in shower with bath bench and handheld shower
Individually controlled thermostat
24-hour emergency call system
We even welcome small pets, for an important touch of home.