Frequently Asked Questions
How do I know if Retirement Living is right for me?
Retirement Living is right when you can take care of yourself and you answer "Yes" to any of the following:
Would you enjoy participating in outings, craft projects, card games, or specialty clubs like a Book Club or Veterans Club?
Would you benefit from eating meals prepared for you and enjoying the company of others at dinnertime?
Would you benefit from regular exercise like walking or taking a stretching and balance class?
Would you benefit from having all the details of everyday life—shopping, bills, housekeeping, home care and more—taken care of?
How do I know if Assisted Living, Transitional Memory Care or Memory Care is right for me?
We'll be happy to assist you with this decision, but here are a few guidelines:
Would you benefit from daily help with activities like bathing, dressing or eating? Then Assisted Living might be right for you.
Are you also often forgetful or confused? Then the structure and stimulation of Transitional Memory Care could be your best choice.
Have you been diagnosed with Alzheimer's Disease or dementia? Then you might benefit from the safety and security of a Memory Care program.
Is living at Meadow Brook Senior Living really more affordable than staying at home?
To find out, first add up all your current monthly expenses. This could include rent/mortgage, property tax, homeowner's insurance, subdivision or association fees, utilities, lawn care, trash removal, home repairs, housekeeping, transportation, exercise classes, groceries, healthcare, home emergency call systems and more.
Now compare your total to the monthly rental program at Meadow Brook Senior Living. Our fees include all of these expenses—along with priceless peace of mind.
Why are your rents higher than those at other communities?
Because you get so much more at Meadow Brook! Our fee is all-inclusive, meaning that you get an apartment in an upscale, home-like community; an anytime dining program with more choices; a large Entertainment & Programming Department planning more activities; access to high-end amenities like a fitness center and theater; and vibrant energy unlike any other community.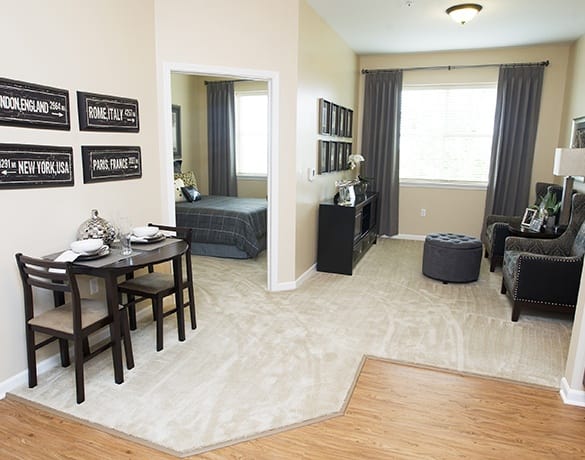 How's the food?
Our restaurant-style dining and flexible meal plan, combined with an extensive menu and lots of choices, is unbeatable in retirement living. While it can get old eating in the same place day after day, we do our best to vary the menu, keep it fresh and keep you satisfied.
How will I know if I will be happy?
You'll be welcomed by Meadow Brook Senior Living's At Your Service® hospitality program, which helps all new residents learn their way around and meet new neighbors right away. The social, friendly environment in our community lends itself to making new friends and living a full, happy life. Your family members are welcome to visit Meadow Brook and attend our community events and daily activities at any time!
Is there financial assistance for veterans?
Yes, financial assistance is available through the VA Aid & Attendance Benefit and applies to qualified applicants. We're happy to refer you to a local representative who can help you apply for benefits.