Pet-Friendly Senior Living, Fishers, IN
Meadow Brook Senior Living is a pet friendly community, so you or your loved one can bring along a treasured pet, either to live here or just to visit. We embrace small dogs, cats, birds and fish for the calm and companionship they offer—even through pet therapy if you don't have a pet friend of your own.
Live-in Pet Companions
People and pets have a powerful bond, especially as we age. When you or your loved one comes to live with us in Retirement Living or Assisted Living, a small pet can come along. You'll love:
The comfort of having that special friendship during a time of transition
The ongoing companionship of a pet in your new home
Your new neighbors also might enjoy your pet's company. Many dogs become community mascots, drawing people and comradery every day.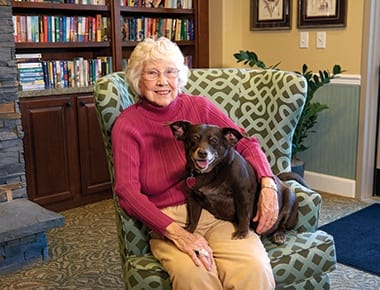 Family Pet Visitors 
Have a grandpet or great grandpet? Invite your family to bring them for visits! There's nothing like a warm hello from a furry friend. And it's a joyful way to bring the whole family together.
Pet Therapy
Interacting with animals has a way of keeping our spirits up. If you don't have a pet of your own, Meadow Brook offers pet therapy—so can you can experience the comfort and wellness benefits of being with a special dog or cat.