Senior Living Options
Anson Senior Living is excited to offer full-service senior living in Zionsville, IN, near Eaglewood Estates. Our professional and courteous teams offer our residents the full Spectrum of Care™, including Independent Living, Assisted Living, Transitional Memory Care and Memory Care services for seniors, so you can age in place with comfort and peace of mind.
Discover home at Anson Senior Living in Zionsville, near Carter Station Park.
Independent Living
If you are an active senior seeking a vibrant, maintenance-free lifestyle in a welcoming community with life-enriching amenities, Anson Senior Living is the perfect place to make your new home. Enjoy a robust menu of activities, events and more, including ample options for health and wellness right here in your own community. We provide options, and you get to make your own choices every day.
Learn about Independent Living
Assisted Living
When you begin to struggle with the activities of daily living, an inviting option for assistance is waiting at Anson Senior Living. Our Assisted Living community offers all the encouragement and support needed to live comfortably and fulfilled, with 24-hour care provided by licensed senior care professionals. We can help you choose the best options for you.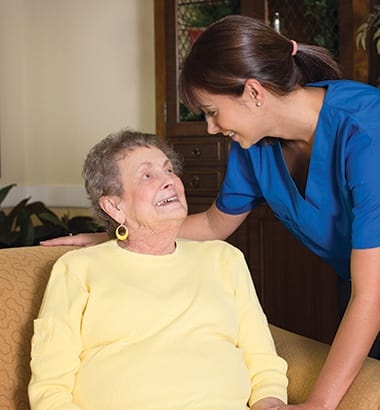 Transitional Memory Care
For those who may need some memory support services but who are not yet ready for full Memory Care living, Transitional Memory Care is available at Anson Senior Living. This option is designed to help seniors age in place by providing an additional care level that is more specialized for early Alzheimer's, dementia and other memory loss illnesses.
Learn about Transitional Memory Care
Memory Care
Our Memory Care professionals have the specialized skills, knowledge and unwavering compassion needed to help seniors with memory loss illness live more comfortable and fulfilling lives. Each Memory Care neighborhood is designed specifically for their unique needs, with easy-to-navigate spaces which help residents explore independently while also offering their loved ones the much-needed peace of mind that comes with sharing their journey with Anson Senior Living.
Respite Stays
We are happy to offer short-term Respite Stays for seniors in Zionsville. Respite care makes recovering from an illness, injury or hospital stay more comfortable and relaxing, thanks to round-the-clock support provided by our friendly care professionals. It is also a great way to ensure you are well cared for when a primary caregiver is away.
Contact our helpful team today to learn more about short-term senior care in Zionsville, IN, today.
*Respite Stays are subject to availability. Contact the community for more information.
How to Choose Living Options
Feeling overwhelmed by the options? Read our guide—This Feels Like Home®: A guide to finding the most appropriate retirement living option.