Private Patio Homes in Overland Park, KS
Accentuate the Everyday
Find the warm and welcoming residence you've been searching for with a patio home at Park Meadows Senior Living in Overland Park, Kansas. Designed for the social senior, your private new duplex-style home keeps you connected to what matters most. Enjoy an early morning walk along the banks of Indian Creek before stopping in at Pottery Barn in Town Center Plaza to update your home furnishings. We are also close to I-435, making it easy for you to visit with friends and loved ones.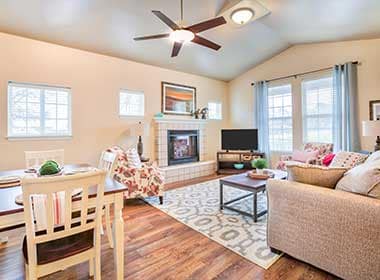 Patio Home Highlights
Boasting an expansive 1,880 square feet of living space, each two-bedroom patio home in the Park Meadows Senior Living community treats you to an unprecedented level of comfort and convenience. From the walk-out patio, perfect for quiet conversations with family and friends, to the welcoming master suite with private bath and walk-in closet, we've designed a home you will love for years to come. Additional highlights of our patio home floor plan include an attached garage, fully equipped kitchen, and dedicated laundry room complete with a washer and dryer. Our private homes for social seniors are also pet friendly, welcoming your cats and small dogs.
We Are At Your Service®
You've spent years mowing the lawn, cooking family dinners, and cleaning the house. Now it's time for you to let us take care of the day-to-day. Situated on the Park Meadows Senior Living campus, we offer our patio home residents exclusive access to all our on-site amenities and services, including the highly regarded At Your Service® Dining and Concierge programs.
Amenities
Full-service beauty salon
Greenhouse and outdoor gardening areas
State-of-the-art fitness and physical therapy center
Shared gathering and event space
Learn more about amenities.
At Your Service® Concierge
Transportation scheduling
Pharmacy prescription drop-off and pickup
Inclement weather country club–Style meal delivery service
Learn more about concierge.
At Your Service® Dining
Fresh meals cooked using only the best local ingredients
Bistro serving coffee, tea, hot chocolate, cookies and fruit
Sunday Champagne Brunch
Learn more about dining.
Wellness
Yoga, tai chi and SpectraFit™ classes
Book club and book review
Bible study
Learn more about wellness.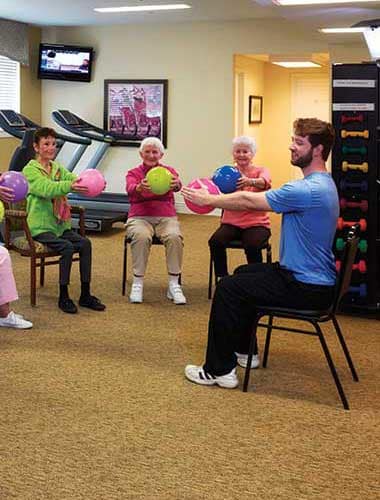 Far From Ordinary
Located south of Kansas City in Overland Park, the patio homes at Park Meadows Senior Living are ideally situated to help you maintain your social lifestyle. Only minutes from the verdant Nall Hills Park and Roe Park, you'll have ample opportunity to explore the outdoors nearby. We are close to a number of churches and other places of worship, including Indian Heights United Methodist Church, Atonement Lutheran Church, Christ Community Church and Kehilath Israel Synagogue. You'll also appreciate the peace of mind that comes with living near the University of Kansas Health System Indian Creek Campus.
Spectrum Retirement Communities
At Spectrum Retirement Communities, we believe that happy residents are the best residents, and we're willing to go above and beyond by providing At Your Service® hospitality. Our private patio homes afford you the freedom and flexibility you need to enjoy your retirement. Live life on your own terms with the help of Spectrum Retirement Communities.
To learn more or to schedule a personal tour, contact our friendly leasing team. It's time to start living worry-free at Park Meadows Senior Living.