Frequently Asked Questions
How do I know if a senior living community is right for me?
Senior living is right when you answer "yes" to any of the following:
Would you enjoy participating in outings, craft projects, card games, or specialty clubs like a Book Club or Veterans Club?
Would you benefit from eating meals prepared for you and enjoying the company of others at dinnertime?
Would you benefit from regular exercise like walking or taking a stretching and balance class?
Would you benefit from having all the details of everyday life—shopping, housekeeping, home maintenance and more—taken care of?
Is living at The Homestead at Hickory View Senior Living really more affordable than staying at home?
To find out, first add up all your current monthly expenses. This could include rent/mortgage, property tax, homeowner's insurance, subdivision or association fees, utilities, lawn maintenance, snow removal, trash removal, home repairs, housekeeping, transportation, exercise classes, groceries, health services, home emergency call systems and more.
Now compare your total with the monthly rental program at The Homestead at Hickory View. Our fees include all these expenses—along with priceless peace of mind.
What's included in the monthly fee?
Our monthly rental program includes all utilities (except phone and internet), restaurant-style and all-day dining, housekeeping, laundry, bus transportation, fitness and exercise classes, innovative activities, wellness programs, educational and cultural programs, Concierge services, a theater, 24-hour staffing, and a 24-hour emergency call system.
Is The Homestead pet friendly?
Yes, we allow small dogs and cats.
How will I know if I'll be happy?
You'll be welcomed by The Homestead at Hickory View Retirement Community's At Your Service® hospitality program, which helps all new residents learn their way around and meet new neighbors right away. The social, friendly environment in our community lends itself to making new friends and living a full, happy life. Your family members are welcome to visit and attend our community events and daily activities at any time!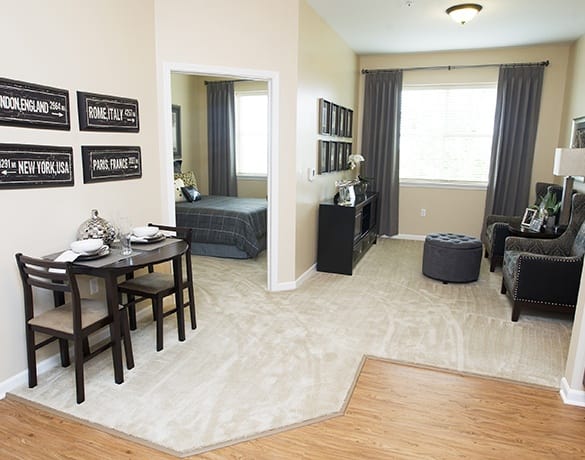 What happens if I need more service?
We work closely with families and in-home service providers* to help you get more one-on-one service if you need it. It can be as little as one hour a month or as much as 24 hours a day, seven days a week. These services can be for a short period of time when you're recovering from a procedure or hospital stay. They can also be ongoing if you have a chronic need. Just ask, and we can provide useful resources to help you find the best option.
* Please Note: These providers are independent contractors and not legally related to or owned by The Homestead at Hickory View Retirement Community or Spectrum Retirement Communities, LLC.  In making this list available, The Homestead at Hickory View Retirement Community and Spectrum Retirement Communities make no representation or warranty as to the nature, quality and scope of the services that are provided by these contractors.