Pet-Friendly Senior Living, Liverpool, NY
At Parkrose Estates Retirement Community, the community's energy is boosted by wagging tails and warm meows. You can bring along your small animal companion—whether for visits or to live with you. Call or join us for a tour to discover our pet friendly policies. We're excited to meet you and your best buddy!
Ask for specifics on our pet-friendly policies when you visit the community. In the meantime, our pets look forward to meeting you!
Live-in Pet Companions
People and pets have a powerful bond, especially as we age. That's why we welcome small pets. They bring: 
Comfort during times of transition
Ongoing companionship

Camaraderie

within the community
Even if you don't have a pet of your own, you may enjoy a neighbor's pet. Many dogs become community mascots, drawing people together every day.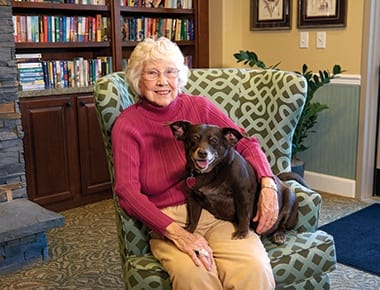 Family Pet Visitors 
You also may love having family pets visit from time to time. There's nothing like a warm hello from a grandpet or great grandpet. And it's a joyful way to bring the whole family together.
Pet Therapy
Parkrose Estates offers pet therapy, so you can still enjoy being with animals, even if you don't have a pet. We find that this interaction has a way of keeping our spirits up, providing unique comfort and wellness benefits.