Monthly Rental Fees
When you choose Three Creeks Senior Living, your loved one gets the lifestyle he or she wants at a price that's within easy reach. Pay just one affordable monthly rental fee—with no expensive buy-in—to cover everything your loved one needs.
Three Creeks Senior Living offers our residents and their family members a simple two-tiered, inclusive rate for monthly apartment rental and care services.
The Gold Tier allows our residents with lighter care needs to have a lower cost inclusive rate. While the Platinum Tier allows residents with higher care needs a predictable inclusive rate as well. The Platinum level would covers all the care services we can provide to your loved one while living at our community.
Prior to moving to our Assisted Living community in Gahanna, OH, your family will work with a nurse to create a custom care plan. The personalized assessment will determine the tier that best matches the resident's care needs and will be the foundation for the customized care plan. This allows families to have peace of mind and no surprises about changing care costs if care needs change.
Base Rental Prices
All-Inclusive Independent Living
Studio apartments start at $2,590 a month
One-bedroom apartments start at $3,285 a month
Two-bedroom apartments start at $4,150 a month
Assisted Living Predictable Pricing
Gold Inclusive rates starting at $4,880
Platinum Inclusive rates starting at $5,880
Memory Care
Gold Inclusive rates starting at $5,100
Platinum Inclusive rates starting at $6,100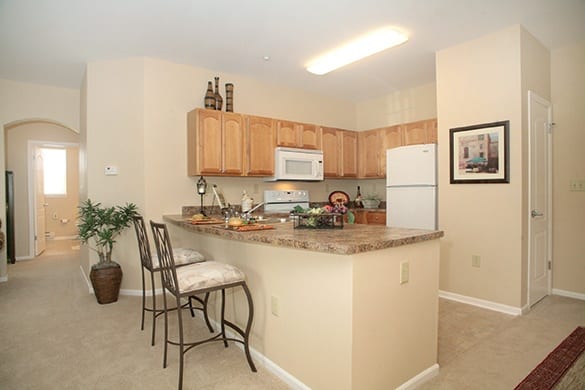 Rent Includes
No second person fee in Independent and Assisted Living apartments
All meals with our At Your Service® Dining program
Activities and wellness programs
Individual and group exercise programs with on-site certified wellness coordinator
Daily wellness checks
Many concierge services
Use of all amenities
Weekly flat linen service (bi-weekly in Independent Living)
Housecleaning service
Utilities including water, gas, electric, cable TV, WiFi and trash removal (personal phone extra)
Individual climate control
Personal emergency response pendants
Scheduled bus transportation
Snow removal from roads and sidewalks
Interior and exterior maintenance of buildings, grounds and apartments
Month-to-Month Rental
Our month-to-month rental agreement guarantees your monthly rental fee for the entire first year of occupancy. If for any reason, you want to move out, you can do so with only 30-day advance written notice.
Money Back Guarantee
We're confident that once your loved one experiences the lifestyle at Three Creeks Senior Living, he or she will want to stay for a long time. That's why we guarantee your complete satisfaction. If within the first 60 days of your loved one's stay, you want to cancel your agreement for any reason, we'll refund 100% of the monthly rent you pay before your cancellation. This does not include the deposit or any fees for care.