Living Options
A truly all-inclusive senior living community, Three Creeks Senior Living offers four living options. Whether you or your loved one needs light care or more assistance, and a short-term stay or long-term home, it's all here—for care that meets your needs today, and down the road.
Patio Homes
When you choose to live in one of the patio homes for rent in our community, you're choosing a lifestyle of comfort and convenience. Enjoy all the same amenities as those in Independent Living without having to sacrifice the freedom of a private residence.
Independent Living
Here you or your loved one can lead a vibrant, healthy lifestyle in every way. We offer activities and amenities to keep the days full. Plus, we take care of all the household tasks—so you or your loved one has freedom to enjoy retirement.
Learn about Independent Living
Assisted Living
Three Creeks Senior Living gives you or your loved one a safe home where the desire for independence and need for assistance are balanced. We provide enriching activities plus help with activities of daily living (ADLs), housekeeping and transportation to help you or your loved one create a full life.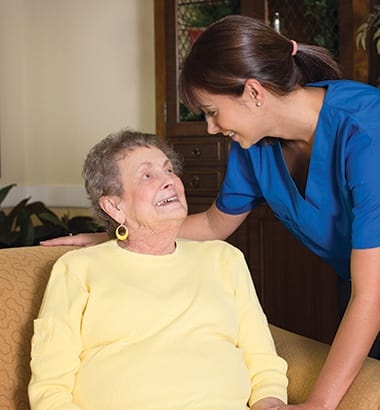 Transitional Memory Care
When you or your loved one needs more care than is offered in Assisted Living, but less care than is offered in Memory Care, our Transitional Memory Care Program—called The Residence Club™—may be just what you or your loved one needs.
Learn about Transitional Memory Care
Memory Care
Our community also includes full Memory Care for those with dementia or Alzheimer's Disease. Called The Path to the Present®—A Resident Directed Program, our services keep your loved one engaged and safe 24 hours a day, seven days a week.
Nursing Home
At Three Creeks Senior Living, we don't offer skilled nursing. That's reserved for nursing homes—also called skilled nursing facilities—which offer a higher level of medical care than we provide. Nursing homes are for people who don't need a hospital but can't be cared for at home. If you or your loved one doesn't need that kind of care, our community might be just right.
How to Choose Living Options
Feeling overwhelmed by the options? Read our guide—This Feels Like Home®: A guide to finding the most appropriate retirement living option for your parents.