Memory Care, Gahanna, OH
Three Creeks Senior Living offers the proprietary Path to the Present®—A Resident Directed Program. It recognizes your loved one's abilities and preferences, and supports him or her in doing as much self-care as possible. Whether he or she has Alzheimer's Disease or another type of memory loss, your loved one can maintain their independence and dignity.
Resident Directed Care
Rather than asking your loved one to conform to our environment, we've created an Assisted Living environment that conforms to people with dementia. This helps your loved one reach his or her greatest potential—mentally, physically and spiritually.
This unique approach: 
Engages your loved one in meaningful daily activities
Helps him or her regain a sense of purpose
Reconnects him or her with the larger world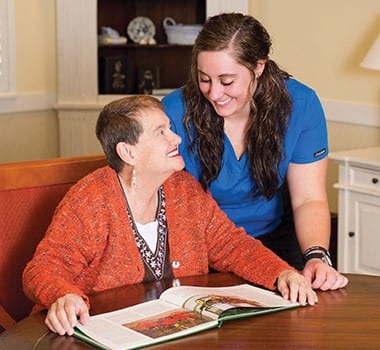 Engaging Programs
To help enhance your loved one's cognitive functioning, our Life Enrichment Coordinator plans meaningful individual and group activities. They encourage your loved one to make his or her own choices, and may include memory aids, creative exercises, physical movement and more.
Marvelous Minds™ Memory Aid Program
Matching, Memorization & Categorization
Music and Memory Program
Luminosity
Art and Pet Therapy
Reading, Theater and Cooking Clubs
Socialization
Brain Boosting Benefits™
(B3) Program
Food in raw form is more concentrated and beneficial. Our Brain Boosting BenefitsTM smoothies incorporate super foods into the diet that can't be achieved through regular menus.
Our B3 smoothies are served as a snack in Memory Care every afternoon. Recipes are developed by our dining services team & the "Smoothie of the Day" menu is posted in Memory Care.
Dementia Care around the Clock
Our team receives specialized ongoing training in working with people with memory loss and Alzheimer's Disease, so your loved one gets the highest-quality dementia care. To ensure the right level of care, they provide:
An introductory assessment when your loved one moves in
Routine follow ups 
Follow ups any time his or her condition changes
Day-to-day, you can feel confident, knowing our nurses and caregivers are available 24 hours a day, 7 days a week, so your loved one gets the attention he or she needs to stay safe.
Memory Care Neighborhood
Here your loved one will live in a private and safe apartment that's like a cottage with its own front porch and other design features to maximize his or her independence. The apartments are in a special Assisted Living neighborhood—with a Memory Care garden and putting green—devoted only to Memory Care.
Watch our video here to get a firsthand glance at what life is like in our Memory Care Neighborhood and how we help our residents thrive.