Senior Living in Powell, OH
Powell Memory Care helps individuals living with Alzheimer's disease and other dementia related memory loss to live a life of dignity and independence. We offer the proprietary Path to the Present® - A Resident Directed Program. This specialized approach to Memory Care recognizes your loved one's abilities and preferences, and supports him or her in doing the maximum amount of self care.
Resident-Directed Programming
We don't ask your loved one to adapt to our environment. Instead, we respond to the unique needs of residents with dementia. Our goal is to help your loved one live up to their greatest potential. Our unique approach:
Offers Meaningful Daily Activities
Assists Residents in Regaining a Sense of Purpose
Reconnects Him or Her with the Larger World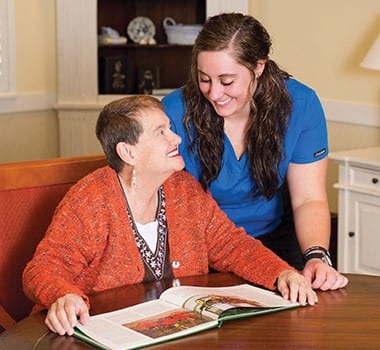 Life Enriching Activities
At Powell Memory Care, our Life Enrichment Coordinator plans meaningful individual and group activities to help foster your loved one's cognitive functioning. We encourage our residents to make their own choices, and offer a variety of programs to help them do so. A sampling of our activities includes:
Marvelous Minds™ Memory Aid Program
Matching, Memorization & Categorization
Music, Art, and Pet Therapy
Reading, Theater, and Cooking Clubs
Socialization
Brain Boosting Benefits™
(B3) Program
Food in raw form is more concentrated and beneficial. Our Brain Boosting BenefitsTM smoothies incorporate super foods into the diet that can't be achieved through regular menus.
Our B3 smoothies are served as a snack in Memory Care every afternoon. Recipes are developed by our dining services team & the "Smoothie of the Day" menu is posted in Memory Care.
24-Hour Dementia Care
The caregivers at Powell Memory Care specialize in caring for individuals with dementia and other memory related impairments. This highly trained professional team receives on-going training in working with individuals facing memory loss and Alzheimer's disease. To ensure your loved one gets the right level of care, we provide:
Introductory assessment before move-in
Regularly scheduled follow ups and when the resident has a change in condition
Nursing services 24 hours a day, 7 days a week
Feel confident in the care and attention provided to your loved one.
Memory Care Neighborhood
Your loved one will especially enjoy our dedicated Memory Care neighborhood. Spacious and cheerful with a private, cottage-like design, this is a home your loved one will enjoy for years to come.
Learn more about the safety and independence of Memory Care at Powell Assisted Living & Memory Care in Delaware County, OH.
Watch our video here to get a firsthand glance at what life is like in our Memory Care Neighborhood and how we help our residents thrive.