Assisted Living in West Chester
The care and encouragement you or your loved one needs to discover a renewed sense of independence and fulfillment is waiting right here at West Chester Assisted Living and Memory Care. Our West Chester Assisted Living community for seniors offers 24/7 support with the activities of daily living (ADLs), as well as gourmet dining, housekeeping assistance, transportation services and even an onsite concierge to help plan appointments and more. In addition to providing for your needs, we also take the time to get to know you as an individual, so you will truly feel at home in our welcoming community.
Private Apartments
Each Assisted Living apartment in our community offers the in-home features and spaces needed to live fully supported in your privacy and independence, with safety and accessibility features such as:
24-Hour Emergency Call System
Full Bathroom with Step-In Shower and Safety Features
Spacious Walk-In Closet
Individually Controlled Thermostat
Washer and Dryer in Most Homes
If you're excited about your new home but wondering how your pet fits in, we've got great news for you. West Chester Assisted Living and Memory Care is a pet-friendly senior community in West Chester!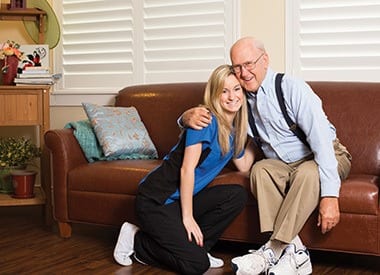 Specialized Support
If you or your loved one needs assistance with the activities of daily living (ADLs), our friendly care professionals can provide the specialized support needed to feel comfortable and at ease in your daily life. We can help with:
Bathing
Dressing
Toileting
Medication Reminders
Transportation
And much more!
Please reach out to our team for more information on assistance services.
Customized Care Plans
Your comfort and dignity are always our top concern, which is why we create customized care plans based on the unique needs, personality and preferences of each individual resident. We start with a comprehensive assessment and initial care plan, then offer regular check-ins and monitor for changing needs in between, so you will always have the care you need when you need it.
Complete Services
At West Chester Assisted Living and Memory Care, we offer 24-hour care services, delicious At Your Service® Dining, and a full menu of mood-boosting wellness activities that stimulate your mind and encourage overall health and happiness. We are here to help you thrive in mind, body and spirit.
Residents enjoy the life-enhancing support they want to live more fulfilled, while loved ones gain the peace of mind they crave by knowing that the person they care for is experiencing the utmost quality of life in a friendly community with complete care and lifestyle services.