Senior Living Options
Age in place with comfort and dignity at West Chester Assisted Living and Memory Care in West Chester, OH. Our continuum of care includes Assisted Living, Transitional Memory Care and Memory Care, because we understand the changing needs of seniors and work to provide accommodations and support which can adapt along with them. Whether your loved one requires assistance with the tasks of daily living or is learning to live with memory impairment, we can provide the comfortable spaces and care needed for them to experience a higher quality of living each day.
Assisted Living
West Chester Assisted Living and Memory Care provides respectful and professional Assisted Living for seniors in West Chester, near Wetherington. This lifestyle is ideal for mature adults who may require help with the activities of daily living (ADLs) in order to live more fully and with greater ease. Services include 24-hour care and support, housekeeping, meals and transportation services, as well as an enriched lifestyle with specially curated activities, events and amenities.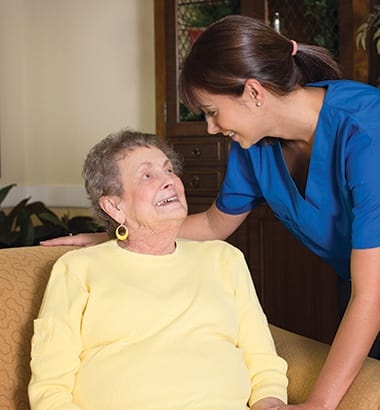 Transitional Memory Care
Our unique Transitional Memory Care program provides specialized care for seniors who may begin to struggle with moderate memory loss or mild cognitive impairment (MCI). This living option bridges the gap between Assisted Living and full Memory Care services, so your loved one is able to stay in the comfort of their current home in our community and receive targeted care based on their changing needs.
Learn about Transitional Memory Care
Memory Care
Our West Chester Memory Care community provides the professional care, support and engagement your loved one needs to experience joy and fulfillment while living with Alzheimer's, dementia and other memory-related illness.
Respite Stays
We are happy to offer short-term care for seniors in West Chester in order to provide coverage while a primary caregiver is away, or while you recover from an illness, injury, or other event. Respite Stay residents enjoy round-the-clock support in a comfortable and encouraging environment with ample amenities and robust programming.
*Respite Stays are subject to availability. Contact the community for more information.
How to Choose Living Options
Feeling overwhelmed by the options? Read our guide—This Feels Like Home®: A guide to finding the most appropriate retirement living option for your parents.