West Chester Memory Care
We are happy to offer professional Memory Care services for seniors in West Chester, OH. Our mission is to help those living with memory impairment experience a more fulfilling lifestyle in a home-like community setting with round-the-clock care from trained professionals, specially designed spaces and essential safety elements. Your loved one can live more fully, more richly with The Path to the Present® - A Resident Directed Program at West Chester Assisted Living and Memory Care.
A Resident Directed Program
Self-reliance, dignity, and fulfilling experiences are available to your loved one living with Alzheimer's or dementia. By providing personalized care and an environment which adapts to the needs of our residents, we help your loved one live to their greatest potential with:
Meaningful Daily Activities
Regaining a Sense of Purpose
Reconnecting with the Larger World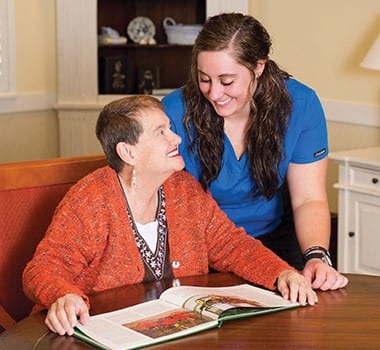 Empowering Activities
Our Life Enrichment Coordinator curates specialized individual and group activities which stimulate cognitive function and accommodate your loved one's unique abilities and evolving needs. Residents are always invited and encouraged to participate on their own terms, in order to foster self-reliance and dignity.
Marvelous Minds™ Memory Aid Program
Matching, Memorization & Categorization
Music, Art and Pet Therapy
Reading, Theater and Cooking Clubs
Socialization
Brain Boosting Benefits™ (B3) Program
Your loved one will enjoy daily smoothies made of powerful superfoods as part of our Brain Boosting Benefits™ (B3) Program. This tasty treat is an important and potent addition to your loved one's diet, as the concentrated nutrients of each drink are as beneficial to the brain as they are to the palate.
Recipes for our "Smoothie of the Day" are developed by our dining team and posted in our Memory Care community, so residents always know what's on the menu.
24-Hour Dementia Care
The Memory Care professionals at West Chester Assisted Living and Memory Care have the training, skills, and experience needed to provide round-the-clock care to your loved one. Not only do they understand the unique needs of individuals living with memory impairment, they also take the time to get to know each resident to provide sincere companionship and exceptional support. Each Memory Care resident receives:
An initial care plan based on a pre-move-in assessment.
Regular follow ups to adjust care plans as needed.
24/7 monitoring to detect changing needs between scheduled checkups.
Rest assured knowing that your loved one will be respected and well cared for in our West Chester Memory Care community.
Our Memory Care Neighborhood
Residents of our Memory Care Neighborhood experience the comforts of home and the soothing feeling of a familiar place each time they approach their private, cottage-style apartment. Each apartment includes a welcoming porch-style area with space to display personal effects and reminders of home which help them independently navigate the halls for increased self-reliance.
Contact us today to schedule a tour of our Memory Care Neighborhood.