At Your Service® Dining
At Gardens at Westlake Senior Living, your loved one can enjoy restaurant-style dining, including a wide variety of menu options—from healthy salads to comfort foods—to suit his or her tastes. All meals, including hot breakfasts, are made fresh by our chef, so your loved one will enjoy every one, guaranteed.
Flexible Dining Times
All three meals are included in rent, plus more!
Throughout the day, your loved one can eat as often as he or she likes during our normal posted dining room hours. We call this At Your Service® Dining—your loved one will call it fulfilling.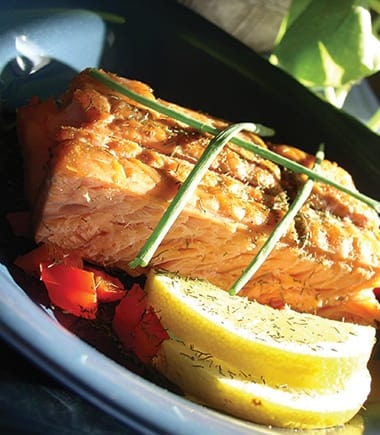 Marvelous Menu Options
In our main dining room, our chef creates a variety of healthy and flavorful menu options—plus a daily special—at lunch and dinner, so your loved one can enjoy every meal. Options include:
Potato, Pasta, Burger and Hot Dog Bars
Prime Rib Dinners  
Themed Dinners
Accommodations for Special Dietary Needs
For special occasions, your family can reserve our private dining room and enjoy a party or family gathering catered by our chef.
Special Diets
50s-style Diner—Your loved one can drop by for a single scoop of ice cream—or a triple banana split—every day of the week.
B3 Brain Boosting Benefits™ Smoothies—If your loved one is in Transitional Memory Care, he or she can enjoy daily smoothies. They help him or her get the raw super foods needed for brain health.