Living Options
At Crescent Park Senior Living, we focus exclusively on retirement living—for people who are looking for a new home where they can enjoy a social retirement.
Retirement Living
Our community is devoted to retirement living. But if you need a little extra help, it's easy to get optional In-Home Service. Simply contract separately with a provider of your choice who can come right to your apartment.
Please Note: These providers are independent contractors and not legally related to or owned by Crescent Park Senior Living or Spectrum Retirement Communities, LLC. In making this list available, Crescent Park Senior Living and Spectrum Retirement Communities make no representation or warranty as to the nature, quality and scope of the services that are provided by these contractors.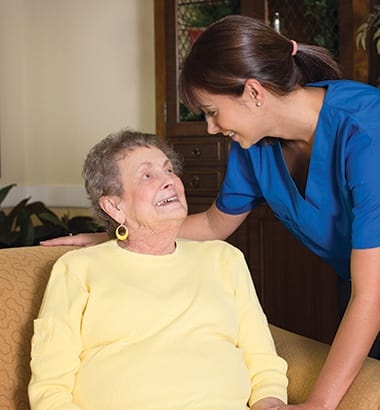 The Difference from a Nursing Home
At Crescent Park Senior Living, we don't offer skilled nursing. That's reserved for nursing homes—also called skilled nursing facilities—which offer a higher level of medical service than you'll find here. Nursing homes are for people who don't need a hospital but can't be accommodated at home. If you don't need that kind of service, then our community might be just what you're looking for.
Feeling overwhelmed by the options? Read our guide—This Feels Like Home®: A guide to finding the most appropriate retirement living option.