Frequently Asked Questions
How do I know if a senior living community is right for me?
Independent Living is right when you can take care of yourself and you answer "Yes" to any of the following:
Would you enjoy participating in outings, craft projects, card games, or specialty clubs like a Book Club or Veteran's Club?
Would you benefit from eating meals prepared for you and enjoying the company of others at dinner time?
Would you benefit from regular exercise like walking or taking a stretching and balance class?
Would you benefit from having all the details of everyday life—shopping, housekeeping and more—taken care of?
Is living at Lake Travis Independent Living really more affordable than staying at home?
To find out, first add up all of your—or your parent's—current monthly expenses. This could include rent/mortgage, property tax, home owner's insurance, subdivision or association fees, utilities, lawn maintenance, trash removal, home repairs, housekeeping, transportation, exercise classes, groceries, home emergency call systems and more.
Now compare your total to the monthly rental program at Lake Travis Independent Living. Our fees include all of these expenses—along with priceless peace of mind.
What's included in the monthly fee?
Our monthly rental program includes all utilities (except phone and Internet), restaurant-style and all-day dining, housekeeping, laundry, bus transportation, fitness and exercise classes, innovative activities, well-being programs, educational and cultural programs, concierge options, a theater and a 24-hour emergency pendant.
Is the Lake Travis Independent Living community pet-friendly?
Yes, we allow dogs and cats.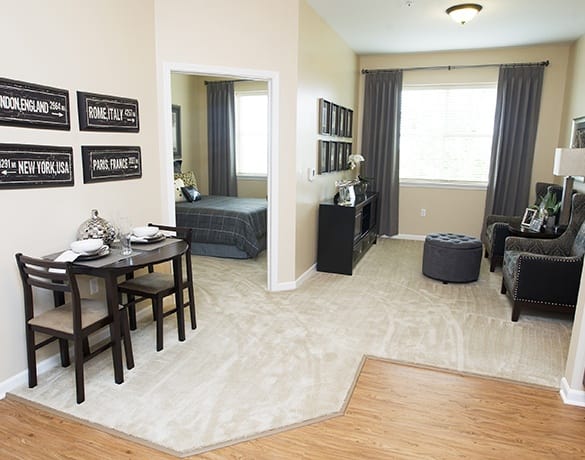 How will I know if I or my parent will be happy?
You will be welcomed by Lake Travis Independent Living's resident hospitality program, which helps all new residents learn their way around and meet new neighbors right away. The social, friendly environment in our community lends itself to making new friends and living full, happy lives. Your family members are welcome to visit and attend our community events and daily activities at any time!