Activities
Enjoy a simple moment alone with a hot cup of coffee and a stunning view of Round Rock from our Sky Lounge observation deck. Delve into the world of literary genius with a resident book club or check in with the community at a SpectraMoments™ Daily Chat. Whether staying close to home or heading into Austin for a lively excursion, you or your loved one can choose the activities which bring the most joy and fulfillment each day.
Find meaningful engagement at your leisure with The Enclave at Round Rock Senior Living. Contact us today to learn more.
Please Note: Availability of programs may vary by community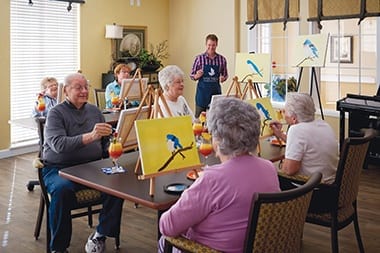 Excursions
Shopping
Movies and Plays
Museums
Sporting Events
Arts, Music & Entertainment
Musical Performances
Arts and Crafts Classes
Great Moments in Entertainment Presentations
Just for Laughs™ Entertainment Program
Acting and Performances
Poetry Groups
Cooking Classes
Social
Family Socials on Weekends
Happy Hours with Entertainment
Activity Grab Bag
Game Nights
Birthday Celebrations
Coffee Connections
New Resident Socials
SpectraMoments™ Daily Chats
Community Planning
Gardening Club
Activity Steering Committee
Monthly Chat Time
Resident Council
Humanity United for Good (HUGS®) Community Service Program
Colors of Spectrum™ Activities Guide
Read our booklet to learn more about the wide range of activities offered at Spectrum Retirement Communities.